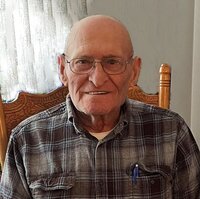 Donald Lee "Don" Roth
Donald "Don" Lee Roth of Pahrump, Nevada formally of LaSalle, Colorado, passed away peacefully on April 22nd, 2022.
Don was born September 13th, 1934, to Chris and Margaret Roth, moving from Sterling, CO to the Greeley area.
Don met and married Shirley Michaelis December 23rd, 1953, celebrating 68 years of marriage. Don was raised on the family farm, worked for Farmhand building beet harvesters. In 1987 Don and Shirley owned and operated Alpine Medical in the LaSalle area.
Don and Shirley retired in 1996 and moved to Pahrump, Nevada adding many friends to their circle of life. Don played the hammer dulcimer in a variety of Polka bands for over 20 years. He also built several dulcimers of his own. Don enjoyed many hobbies including fishing, hunting, golfing, bowling, shooting, pool, and was a 55-year member of the Moose Lodge and a 15-year member of the Elks.
Don is survived by his wife Shirley Roth, son Rick Roth, daughters Debra Roth, Roberta Lane, Kay Roth-Baca, and son-in-law Danny Baca. He shared his life with 9 grandchildren and 8 great grandchildren, and numerous nieces and nephews.
Don was preceded in death by his parents, 2 brothers and 3 sisters and a son-in-law.
Funeral service will be held at Adamson Life Celebration Home; 2000 W 47th Ave., Greeley, CO 80634, on April 29th, 2022, at 10:30 a.m., followed by a reception at Adamson's. Graveside service 3 p.m. at Sunset Memorial Gardens.