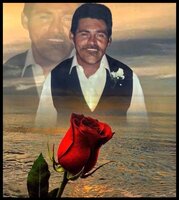 Dennis Rickey Garcia
Dennis Garcia, 72, of Greeley, passed away on February 24, 2022 in Greeley, Colorado surrounded by his family and friends. He was born to George and Virginia Garcia on August 25, 1949 in Denver, Colorado.
Dennis met and later married his wife, Frances (Martinez) Garcia on November 12, 1965 in Denver, Colorado. They moved from Denver to Greeley area in 2002 to be closed to family.
He loved the outdoors, especially fishing, hunting and camping. Above all, he loved and adored his family. He will be deeply missed by all that knew him.
Dennis is survived by his wife; children, Vincent Garcia, Sabrina Robles, Zacharia (Brittany) Garcia and Jeremiah Garcia; 10 grandchildren and 17 great grandchildren; siblings, Johnny (Carolyn) Garcia, George (Peggy) Garcia, Darlene Garcia and Dana (Rhonda) Garcia.
He was preceded in death by his parents; son, Richard James Garcia Jr.; granddaughter, Candace; siblings, Frank, Angel, Rosie and Patrick.
Life Celebration memorial will be held at 10 am, Tuesday, March, 1, 2022 at Adamson Life Celebration Home in Greeley.
To leave condolences for Dennis' family, www.adamsoncares.com